Apple's Editor's Choice and Into the Pixel Award-winning iPad game, FETCH, is now a universal app. That means if you have an iPhone, you can now play this delightful and charming adventure game. It also means that if you've already purchased Fetch for iPad, you do not have to pay again to have it on your iPhone!
In FETCH, you play as Milo, a little boy whose best friend is his dog, Bear. When Bear is nabbed by a mysterious fire hydrant, you get to guide Milo on his quest to get his dog back. On the way, you will reunite the Three Blind Mice, rescue a giant alligator, blast your way through a museum, explore Pirate Islands, fly spaceships, zap aliens, and so much more! Why was Bear nabbed? You have to play to discover the truth. But I will tell you this: The fire hydrant is a part of a large scale plan by notorious mega-corporation Embark Inc. where they employ robots to steal everyone's dogs.
If you love adventure or arcade games, FETCH is definitely for you. It masterfully blends the two genres. It's also a great game to play with your kids! Download FETCH from the App Store free.
We aren't the only fans of FETCH. The intensely creative "humor scientist" Kris Straub* collaborated with Penny Arcade—one of the most popular and longest running webcomics—to create a fantastic comic strip about FETCH.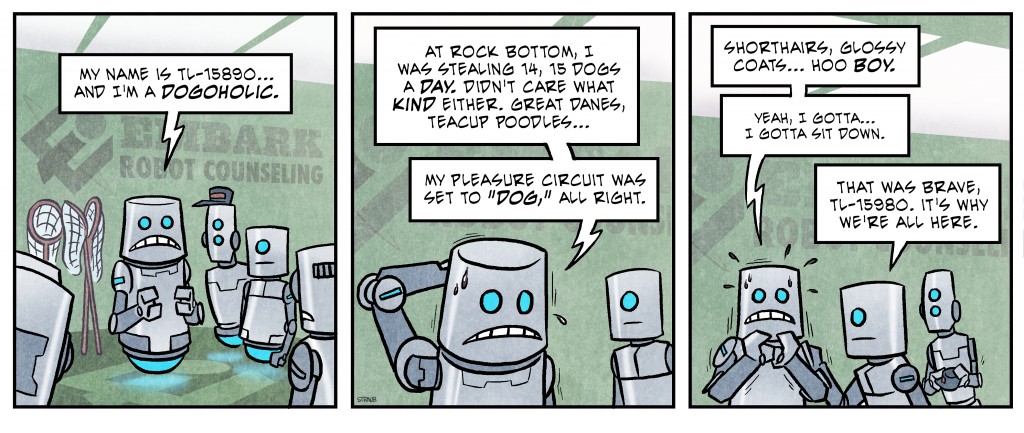 Speaking of Embark Inc.'s notorious dog-catching robots, one of FETCH's extraordinary animators, Rebecca Coffman, made a quick video explaining the process of bringing characters to life through motion!
How to Animate a Robot on YouTube
WHO DOESN'T LOVE ROBOTS??
- – -
*Kris Straub is a prolific, intensely creative, and entertaining cartoonist. Creator of Checkerboard Nightmare, Broodhollow, Starslip, chainsawsuit and F Chords, Kris is also the co-founder of webcomics collectives Blank Label Comics and Halfpixel. As if that isn't enough, Kris co-created the series Blamimation with Kris and Scott (an animated series) and Kris and Scott's Scott and Kris Show (a live-action comedy webseries) with Scott Kurtz. Both series air at Penny Arcade's PATV.
Try FETCH on iOS free  …and…  Play this super amazerblades FREE arcade mini-game: